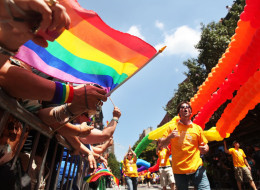 Well done, New York. I'm still in Los Angeles (after our massive live-quiz debut here), en route soon to Boston soon (for the next Harvard Square show), but I'm missing my home state and very proud of it now. Yeah, in case you didn't know, the BQT is a big ol' lefty organization.

Some same-sex-marriage-related factoids:

As soon as Governor Cuomo signs the law (late July is the expected date), New York will become the sixth state of allow same-sex marriage. Any activist can rattle off the list: Massachusetts (May 17, 2004), Connecticut (November 12, 2008), Vermont (April 7, 2009), Iowa (April 27, 2009), New Hampshire (January 1, 2010), and now New York. It's also on the books in Washington, D.C. (March 3, 2010), and, interestingly, the Coquille Indian Nation in Oregon (at least one member of the couple must be a member of the tribe, which numbers fewer than 600 people). Every little bit.

It was legal in my beloved California from June 16 to November 3, 2008. Various jurisdictions in a handful of other states permit it, but all told, even once NY becomes law, less than 12% of Americans live under a marriage-equality regime. It is a start, though. For more thorough—and more authoritative—information, check in with the hardworking folks at Marriage Equality USA. Or look at this lovable map:

But how does this relate to one of my—and the BQT's—absolute favorite subjects, presidential trivia? Nate Silver shows the way: This terrific yet concise post on Five Thirty Eight details how Governor Cuomo's leadership on this issue provides an interest contrast with President Obama's attitude (or at least the public perception of it), and prompts the question: Cuomo in '16?

Why not? Cuomo's pop, who ruled Albany 1983–1994, was the constant subject of White House speculation, especially after he gave a rousing speech at the otherwise-moribund 1984 Democratic convention, and in '92, he crept all the way up to the edge of jumping in. (Great Salon.com article here.) But for much of our nation's history, the governor of New York was considered an automatic contender for the presidency. The tale of the tape:

Governors of New York who served as President: Four (Van Buren, Cleveland, both Roosevelts). No state has sent more chief executives to the big chair. (Virginia has had three, Tennessee and Ohio two, four others one each, unless you count pre-state military territories.)

Governors of New York who were unsuccessful major-party nominees for President: Six, including one who was picked two elections in a row (Federalist DeWitt Clinton, 1812; Democrat Horatio Seymour, 1868; Dem Samuel Tilden, 1876—won the popular vote even; Republican Charles Evans Hughes, 1916; Dem Al Smith, 1928; and Republican Thomas Dewey, 1944 and '48). I guess it's technically eight, since Van Buren and Cleveland were both unsuccessful nominees when they lost reelection, but you get the idea.

Governors of New York who were Vice President: Six (George Clinton—not him, of course; Daniel Tompkins—namesake of Tompinks Square Park; Van Buren; Levi Morton, who went to Albany after he was VP and had some bitchin' muttonchops…

…Theodore Roosevelt and Nelson Rockefeller. I could tell you whatever you wanted to know about those guys, just ask.)

So will Andrew run? Dude certainly seems ambitious enough, but 2016 is a couple zillion aeons away in political terms—had you heard of Barack Obama in 2003?—so it's impossible to say with any degree of authority whatsoever. But this is unquestionably a check mark in the win column for him, and renewed assurance that maybe, possibly, politicians can still make good things happen.