Just wanted to pass along this great video from Slate (a favorite time-wasting site).

Yes, yes, it makes me want to do drugs more. But I'm more fascinated by the concept of the crossover: all the various characters owned by disparate companies teaming up for the same project, appearing together in a shared universe. I've always been of two minds about these projects. I mean, it was a thrill to witness Superman and Spider-Man clashing…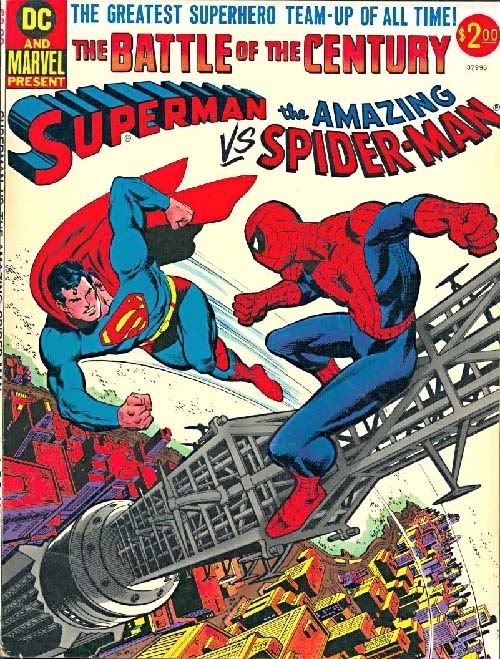 …but what are the implications? All of the DC and Marvel characters inhabit a single world? What does that mean for long-term continuity? Do the Teen Titans confront Galactus when he threatens Earth? Does the Punisher try to murder the Penguin? Is the Doom Patrol jealous of the X-Men's resources and cachet? Yes, it's just a story, but for a true comic geek, it raises too many necessary questions to answer in a single one-off publicity event.
Other times, the crossover is a neat fit, and adds a welcome richness to a series's back story. Like how it was established
The
Golden Girls
and
Empty Nest
occurred in the same fictitious Miami…
(Sorry for the poor quality; a car burglar stole my
Empty Nest
DVD box set.) Despite the discomfiting humor here, there don't seem to be too many major reverberations to this. Blanche, Dorothy and Rose are ensconced quietly down the street. The middle-aged Floridian crises are small enough that nothing would necessarily draw the attention of unseen characters (except when it does, as in the well-handled "Hurricane Saturday" crossover event, which is woefully underdocumented on the Internet). Nice and easy.
Cartoon All-Stars to the Rescue
avoids any pitfalls (or benefits), of course, since the characters coexist only in the young man's pot-addled dream mind. In fact, as
Slate
's commentator points out, that's a fairly realistic scenario, someone blitzed on weed and dreaming about Bugs Bunny, the Muppet Babies, and the animated version of Alf all at the same time. This is genius.