Let the series continue. Another of my most beloved songs.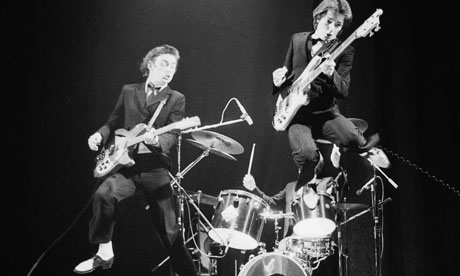 "See-Saw" by the Jam
I had some hesitation in putting this song on my list. I mean, I love it; never get sick of it. And I love the Jam. But of all the Jam's outstanding songs, I was reluctant to declare this my favorite. First of all, the lead vocal is by Bruce Foxton, the band's bassist, and not frontman-songwriter Paul Weller. Foxton has a relatively weak voice, and while this isn't the only good Jam song with him up front ("Smithers-Jones" and "News of the World" also come to mind), it feels wrong to give one of his tunes the big nod.

Moreover, "See-Saw" was originally a B-side to the great "Eton Rifles" (1979), never included on a proper album, and I don't want to be one of those pretentious snobs who says, "Oh, you like the Jam? Yeah, I guess their greatest hits is all right, but you'll never understand them unless you hear this vinyl-only Japanese import of a show they did for 45 people in the middle of a hurricane back in 1836." You know what I mean.

But last week, I heard "See-Saw" again in a new light (no comment about what I had ingested), and I realized that truly, it is this titanically talented band at its best. The steady, tension-filled opening explodes into a rollicking mod rhythm, with an exciting back-and-forth dynamic that perfectly suits the song's title. The bitterly resigned lyrics speak to me, as always, but the song reaches an exhilarating zenith in the ending. Foxton, with Weller providing earnest backing vocals, blazes through a recap of the song's salient points ("See-saw/Up and down/Around and round/They say it heals in time/They say you'll feel just fine…). And instrumentally, the song is seamless; the Jam constituted probably the tightest trio in the history of punk rock. Brilliant.

Earlier editions of NT's greatest hits:
"OK Apartment" and "Just What I Needed"
"Objects of My Affection" and "Crimson and Clover"
"Reelin' in the Years"
"Mr. Tambourine Man"
"My Name Is Jonas"