As you are perhaps aware, to commemorate 25 years since the release of Back to the Future, it's been rereleased in theaters for an extremely limited time (today and Monday only, I believe). Just got home from an unnecessarily early Saturday-at-12:30pm screening.

This movie is so great. Great, great, great. I always loved it, have seen it a million times, but revisiting it on the big screen renewed my appreciation for it. It's full of so much that makes movies great: funny, exciting, original, well directed and acted, everything. The makeup is a travesty, but otherwise, this is why we care about Hollywood in the first place,

I took notes during the screening—because yes, I am that kind of nerd—and here are some more specific thoughts. I will spare no spoiler:

— Despite the fact that I've seen the movie several trillion times, the first ten minutes felt oddly unfamiliar: I realized that I haven't seen it countless times, as much as I've caught it on TV while flipping through channels and decided to stop and watch it out of the corner of my eye countless times. Thus, the whole beginning sequence, with Marty playing his guitar mondo loud in Doc's laboratory (which, strangely, is next door to a Burger King) and then auditioning for the talent show, seemed fresh. It plays up the minor subplot of Marty feeling as if no one appreciated his musical talent, giving a lot more resonance to his "Johnny B. Goode" performance later on—which, correct me if I'm wrong, is intended to show that no, Marty really isn't an especially talented musician. But hey, who cares, he got to travel through time in a fucking DeLorean.


By the way, in case you forgot, the audition scene (Marty's band is called the Pinheads?) features a chuckleworthy cameo from Huey Lewis, as the stuffy teach presiding over Marty & Co. playing a version of "The Power of Love" (not a bad little '80s rock song, in hindsight). Yet in the world of BTTF, Huey Lewis is clearly a rock star, as proved by the Sports poster on Marty's bedroom wall. Do the students at the high school comment how much that teacher looks like Huey Lewis? I'm reminded of an idea for a movie I've nursed for years: the story of a schlubby loser who looks uncannily like Jack Nicholson, and has to deal with people commenting on that fact constantly. The gimmick, of course, is that the part is played by Jack Nicholson. I'm getting off track here.


— Principal Strickland (played by excellently faced character actor James Tolkan) calls Marty, his dad and nearly everyone else "slacker"; my first viewing of BTTF was was definitely the first time I heard the epithet. Years later, it became emblematic of my generation, evidenced by its title use for Richard Linklater's first film, in 1991. Is this film responsible for its brief moment of near ubiquity? Wikipedia suggests so, noncommittally (is there any other way for Wikipedia?).

— This film is marvelously well cast. Michael J. Fox—there's an actor with star power. Looking back, considering the barn-burner careers of his castmates, Fox bears 96% of the responsibility for Family Ties' runaway success (another 2% is the slightly interesting gimmick of hippies having '80s-stereotype kids; another 2% is credited to Tom Hanks's portrayal of alcoholic Uncle Ned). As I remember it, Fox was the first choice to play Marty, but couldn't fit it in with his FT schedule, so the studio went with Eric Stoltz. They shot a lot of footage with the erstwhile Rocky Dennis, some of which has recently seen the light of day on the new DVD/Blu-ray release of the film. Weird:



No dis to Stoltz (he carries one of my favorite scenes of one of my favorite movies), but they were right, he didn't have the magic for this role. Michael J. Fox had the perfect physicality for this part—think about that unique way he walks around in a daze through the square of 1955 Hill Valley—and he nailed the mix of comedy and adventure that this movie thrives on.

The rest of the cast was right there with him: Great work from Crispin Glover, Lea Thompson, and Thomas F. Wilson (what a perfect bully—other than Freaks and Geeks, what became of that guy? ). And Christopher Lloyd; this film is simply unimaginable with anyone else in that role. What an entrance he makes, too: We hear his voice on the phone a couple times, but it's not until he emerges from the DeLorean that we actually see him, the wild-eyed, frizzy-haired yet lovable mad scientist, in the throes of joy over his success. "If my calculations are correct, when this baby hits 88 miles per hour...you're gonna see some serious shit."


— As indicated above, the makeup is horrible. Sorry,
Ken Chase
, but it's almost painful to look at Glover, Thompson and Wilson in the 1985 scenes; they look like they're in a college theater production of
Medea
. Yes, those scenes are a little silly to begin with, but it's a glaring deficiency in a movie that otherwise hits a solid bull's-eye in visual effects. (Thankfully, they dodged the issue with Christopher Lloyd by hardly changing his character's appearance, which somehow works for a lunatic like him.)
— Before the Libyans attack, Doc is planning to travel 25 years in the future, to today. He delights in imagining the marvels he'll see there, but I have to wonder if Doc would be disappointed in what's changed between 1985 and today. How different would 2010 Hill Valley look to him? (Let's assume he sees our 2010, and not the theoretical 2010 suggested by the 2015 of
Back to the Future II
). Clothing and car styles are different, everyone's fiddling with some kind of portable electronic device, but cosmetically, I'm not sure the differences would be striking. Even noncosmetically—sure, we have the Internet now, but how different is life really? No flying cars, after all.
I was amused by the scene in which Marty first finds Doc in 1955 and tells him that Ronald Reagan is the President in 1985. "The actor?" Doc says disbelievingly. "Who's vice president, Jerry Lewis?" (I recall all the grown-ups in the crowd loving that line when I saw it in the theater in '85; I had only a vague idea who Jerry Lewis was.) "I suppose Jane Wyman is first lady." (Which I totally didn't get at the time, but doesn't really make sense, since in '55, Reagan was seven years divorced from Wyman, and three years married to Nancy Davis. Maybe Doc just wasn't paying attention Hollywood gossip.) I started imaging this scene if the film were remade today: Marty of 2010 talking to Doc of 1990:
"Then tell me, 'Future Boy,' who's President in the United States in 2010?"
"Barack Obama."
"'Barack Obama'? You just made that up! What language are you even speaking?"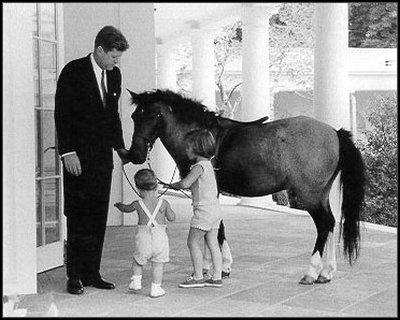 Similarly, Marty tells his mother's father that a certain street is called John F. Kennedy Drive, and Grandpa replies, "Who the hell is John F. Kennedy?" At the time, JFK was hardly unknown: His 1940 publication of his senior Harvard thesis,
Why England Slept
, was a moderate best-seller, and he'd been in Congress for almost eight years, three of them in the Senate. But an average guy in California, just having bought his first TV, couldn't be expected to know the name of a Senator in Massachusetts; it was the following year when JFK gained real national exposure, publishing (but not really writing)
Profiles in Courage
and nearly getting the Democratic nod for Vice President.
— This movie is hilarious, and Doc gets the lion's share of great laugh lines. This exchange really entertained the crowd:
"Wait a minute, Doc, are you trying to tell me that my mother has got the hots for me?"
"Precisely."
"Whoa, this is heavy."
"There's that word again, 'heavy.' Why are things so heavy in the future? Is there a problem with the earth's gravitational pull?"
There's also his almost offhanded apology to Marty for "the crudity of this model," after he's built an exacting replica of Hill Valley to demonstrate how they'll send the DeLorean back to '85. The wacky scientist is a Hollywood trope that was well past its sell-by date in 1985, but Christopher Lloyd did it as good as anyone ever.
— This movie is pretty exciting. The scene in which Marty goes back in time, the car/skateboard chase that ends with Biff crashing into the manure truck, the climactic moment when, by hook or by crook, Doc manages to send Marty back home: You never know what will happen next. I'm envious of anyone seeing this for the first time, savoring that great feeling of being confident that our heroes will get out of the pickle they're in, but having no idea how. (One of the many great, great things about
Toy Story 3
last summer, BTW.)
— Everyone in '55 rags on Marty's sleeveless puffy vest—what did we call those things?—asking him if he jumped ship, why he was wearing a life preserver, etc. It occurred to me that he looks just as silly from a 2010 perspective: We've come full circle with sleeveless-puffy-vest fashion.
— Finally, I never before considered the absolute wealth of grist for Freudian analysis here. Cowriter Bob Gale has claimed that the idea of the film came to him while musing whether he'd be friends with his dad if they were in high school together. He teamed up with Robert Zemeckis, who considered the character of the prudish mom who was secretly a slut in high school, and boom: We got ourselves a wholly original, slightly disturbing Hollywood plot. Every studio rejected the film at first: too Oedpial for the teen-sex-comedy genre, too Oedipal for the family-film genre. (It only got due attention after Zemeckis had a hit directing
Romancing the Stone
.)
This is another place where Michael J. Fox's talent is key: Has there ever been a scene like the one between Marty and Lorraine parked in the car outside the dance? "Lorraine, have you ever been in a situation where you knew you were supposed to act a certain way, but when you got there, you didn't know if you could go through with it?" Of course we all have, but not
this
. Just try to imagine yourself in Marty's position, with your own mom (or dad); Fox nails the nervous, gawky teen persona. That's acting, my friends. I think the remixing here is actually pretty funny:
This is why the
BTTF
sequels—
enjoyable
and
clever
as they are—don't approach the genius of the original, since they don't have that one wholly original plot concept (kid travels to the past and his mom falls in love with him instead of his dad) to carry them through. Never underestimate the value of a good idea.
Finally, possibly the best line in the movie: