And that was a historic evening of the Big Quiz Thing, as we witnessed the world premiere of—brace yourselves—the Big Quiz Thing ballpoint pens! In a striking shade of crimson and the apropos URL text! Yes, we have at last moved into the late 19th century.


Pen portraiture is an especially tough field of photography
Way to lead with the real excitement, Quizmaster Noah. Rest assured, Monday's BQT at
SubCulture
was another night of supreme trivia fun, preceded by another episode of
the BQT TV show
(and, coinkidinks of coinkidinks, two of the teams on
that ep
—Hulk Hogan's Heroes and the Fantastic Fournicators, a.k.a. Disasters of Biblical Proportions, were in attendance to reap all the babe attention). Both of the gimmick puzzles Monday—"The United States of TV" and "Okay, We'll Give You the Artist"—got high marks (it was a kick to see people confuse
The Dukes of Hazzard
with
Designing Women
, or think the Monkees theme was titled "Hello, We're the Monkees"), though I apologize for a devilishly tough Text Message Challenge—give it time, you'll be able to spell
this lady
's first name cold:
Just be glad we didn't ask you to spell the name of Ed Koch's wife…
Not the finest night in BQT history re: Smart-Ass Points, but we had a few primo ones: the overpaid NBA player who might never play again is Bugs Bunny in
Space Jam
; any song you don't know in the audio round is by the Insane Clown Posse; and—the winner for the night, taking home some mega-delicious treats from
Milk & Cookies Bakery
—
this early-'90s ska-punk classic
is titled "My
Haftorah
Portion." And it all ended with the Lightning Round, when we learned that there are only 43 days till Christmas! (Fewer now!) And even fewer till Thanksgivakkuh!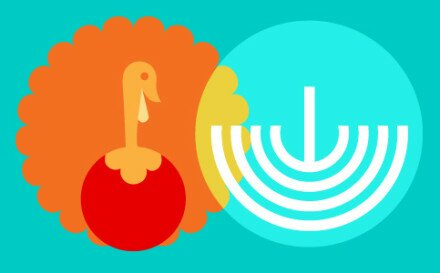 The finale brought together the usual nerdlings—the Fantastic Fournicators, Incontinental Congress (repped by
recent Jeopardy! contestant
Amanda), and—hoping for a come-from-behind victory—
returning champs
Cash Cab for Cutie. Lo and behold, Dean of CC4C took the crown on two straight questions: "No Scrubs" and Truth or Consequences was all it took.
That shy woman at far left is an old college friend of mine who happened to be in town, wanted to check out the show alone, and hooked up with this team randomly. Good choice!
The standings:
1. Cash Cab for Cutie: The old bi-peat
2. Fantastic Fournicators
3. Incontinental Congress
4. Hulk Hogan's War Heroes:
They are real Americans. Fight for the rights of every man
.
5. Braiiins II: Where's the Tables?/Gerard Depardouche/Strippers for Stephen Hawking (tie)
8. Oh Noah You Didn't
9. Happy Birthday
10. Victorious Secret
Big thanks to tonight's prize partners, some of our most stalwart:
Milk & Cookies
and
SubCulture
, plus
Pogo Events
and
On Location Tours
. Want to add your company to the list?
All knowledge you require
.
NEXT:
Indeed, we're up in Yonkers this Saturday for a very special event: teaming up with the nigh legendary
Alamo Drafthouse
for a special night of
Multimedia Movie Trivia
. Three people at a time, with buzzers, and excellent prizes.
Tickets and details right here
. Then on December 10, we cross the river back to Brooklyn, back to our beloved Littlefield (home most recently of
the Big '90s Quiz Thing
), for our
2013 Flashback Trivia-O-Rama
;
tix here
. Also, check out
the calendar
for the latest on shows in
Boston
and
Philadelphia
; or make sure you get on our schedule for
a fantabulous trivia holiday party
. It's all happening—and I mean
all
—at
BigQuizThing.com
.