Yes, there we are: EdP and myself, in our respective Halloween costumes. I was dressed up as a
quizmaster
(when your job involves wearing something outlandish, you tend to run out of steam when it comes to dressing up for the holiday), and EdP was dressed as me. If only I still had that much hair…
Thank you, all, for packing the house at our beloved
Le Poisson Rouge
for the first ever
Spooktastical Halloween Trivia-tacular
(I admit to relief knowing that I won't have to type that for much longer). You came sufficiently costumed, I was happy to see, including this nerdtastic reimagining of top contenders Incontinental Congress as, yep, Incontinental Avengers.
Ant-Man was in someone's pocket, helping them cheat.
Terrific times as we all took part in the trivia-filled cocktail hour; special thanks to one particular dollar store whose name I can't recall, where I stocked up on all those skull straws, candy-corn sock puppets, and other made-in-Taiwan prizes.
Followed by the mystical delights of magician
The Great Dubini
.
And then the quiz proper. "Truly Terrifying Movies" mashed up the worst movies ever with legendary horror movie soundtracks—or "horror" movies, though really, considering the over-the-top levels of blood-drenched gore,
Kill Bill
is close enough.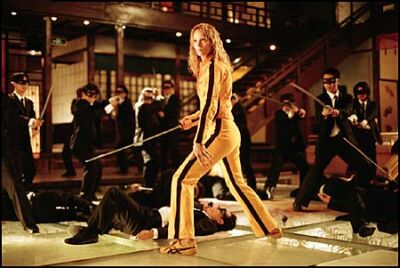 Also, I once dressed up as one of those yakuza guys for Halloween.
Personally, I loved, loved "Candy Bar-rithemtic"…despite the fact that it was way harder than I'd anticipated. (My sometime quizmaster Achilles' heel—judging difficulty level.) I'm going to rejigger it a bit and bring it back someday, new and improved. Thankfully, most of you aced the other four-parter, the eminently figureoutable "Punnily Funny Halloween Costumes" (sourced from
this wry Buzzfeed feature
). This was probably the toughest…
And yeah, "Walter White Castle" would've been an admirable wrong answer.
And short films! Thanks for all the love for "
King Kong Deleted Scene
," made by two good, good friends of the BQT:
Bill Scurry
(a linchpin of perennial winners Cash Cab for Cutie, sadly absent last night) and
Kevin Maher
(genius behind the Kevin Geeks Out series of BQT-like multimedia live-show geek bait), with a cameo appearance by yours truly.
Watch it again and again here
, or try a film festival coming your way soon.
The only dark spot of the evening was that we ran long and LPR had a late show, thus we had to truncate our evening, and cut off some of TV-related Halloween clips. Fear not: We'll whip it out at our next NYC show,
November 11
, back at
SubCulture
.
You're coming, right?
Perhaps the lateness stemmed from the surfeit of scary-good Smart-Ass Points, the best all from the "Truly Terrifying Movies" puzzle:
The scene of Bill Cosby awkwardly ballet dancing
was from
Black Swan
;
the cut-rate lovable 1980s space alien
was featured in
E.T. & the Budget Cuts
(seriously);
this atrocity of a disco musical
was
Xanadu
, accompanied by the soundtrack from
Xanadon't;
and the best of the night,
the skating-and-violin scene in this legendarily bad film
was actually from
The Home Video of My Bar Mitzvah,
winning cookies for a team charmingly named "Call Before You Come, I Gotta Shave My Chacha" (
bar
mitzvah?).
It all ended with a quick, quick finale, with a team called Braaaaaaains! (a conglomeration of BQT semiregulars who hadn't won very much) winning when member Ilene was able to recall
the candy bar
that loaned its name to a 1970s novel about nymphomania and murder.
Spooky!
The took home a tree-mendous prize package from our excellent, excellent conglomeration of prize partners, including two VIP passes to a taping of
The Colbert Report
; passes to a scavenger hunt with
Pogo Events
; malty refreshment at the
Brooklyn Brewery
; two tickets to the truly outstanding
Disaster! The Musical
; a giant basket of sugary manna courtesy
Milk & Cookies Bakery
; supreme discounts at NYC's wackiest pizza chain,
Two Boots
; and a year's membership at our fine venue,
Le Poisson Rouge
.
The standings:
1. Braaaaaaains!
2. The Fantastic Fournicators/Incontinental Avengers (tie)
4. Slash Stab Your Mummy
5. Gerard Depardouche
6. Quiznado!
7. Oh Noah You Didn't!
8. Cunning Stunts
9. Clap for Lon Chaney Jr. (
nice reference
)
10. 7F
NEXT: Our regular monthly stand at
SubCulture
continues! Monday,
November 11
. Hard at work on that now: We have a fun video puzzle called "The United States of TV," and the audio round is "Okay, We'll Give You the Artist." Plus ridiculous amounts more.
Tickets wait for you
. In the meantime, don't eat any razor blade apples. Happy Halloween!