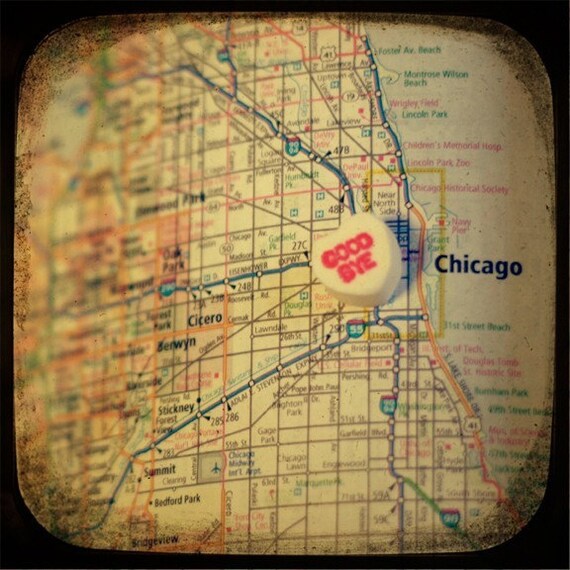 Alas, we come to this: BQT Chicago is officially on hiatus. As we told you
in this space last week
, our Midwest quizmistress,
Katie Vagnino
, is decamping for lands even more Midwesternly (that hotbed of trivia action,
Eau Claire, Wisconsin
), so the show won't be happening until we find the right new person. (You?
See the job description here
.)
Party on Horse Shoe Island
But Katie told me Thursday night was a fitting last hurrah. Lots of excellent Smart-Ass Points, which our Chicagoan fans have become known for. To wit:
—
The '90s tabloid couple
whose last name, appropriately, sounds like a phrase meaning "cut it short": "Pulloutski."
—
How many times have the White Sox won the World Series
in the long time since the Cubs last won? "Who cares? We're from the North Side."
The Cubs hat just looks more comfortable, don't you think? (Courtesy Chicago Now)
—
The 1901 play
that featured Olga, Masha and Irina Prozorov:
Pussy Riot.
—
The superhero
who had a talking tiger for a friend was "that
Life of Pi
guy."
—Three of the current Supreme Court justices were all born in
what same city
? Whiteville,
Connecticut (
Connecticut
is a nice detail).
Plus, there was much rending of garments, as our Chicago fans were all sad to see Katie (and for now, the BQT) go. So much so that various teams sent up drinks to our hostess—the show's also more entertaining when the quizmistress is wasted, after all.
Finally, things came full circle as a team poignantly calling itself Katie, Don't Go! claimed victory—and among its cohort was a player from the champs at
the very first Chicago Big Quiz Thing
, in those long ago days of 2012, back when the President of the United States was Barack Obama and a cup of coffee cost only $1.40. Ta-da!
NEXT: First, extreme thanks to
Uncommon Ground Edgewater
for hosting us since the fall, plus all our other excellent Chicago sponsors:
Adler Planetarium,
Chicago Filmmakers,
Graham Crackers Comics, A La Card Chicago
,
Chicago Chocolate Tours
, etc., etc.
As for what is next? Well, we don't know. Once we recruit a new quizmaster, we'll work on the venue; we love Uncommon Ground, but it might be time for a different neighborhood. Any feedback and/or suggestions are welcome; e-mail info[at]bigquizthing.com. We hope to be back by the end of the year. Till then, keep up on
Facebook
and
Twitter
; watch our (yes, NYC-centric)
TV show
; or hey, hire us for
your own private party
! The flame shall be kept alive.