Hi there. The Big Quiz Thing was back in Boston (well, Cambridge) last night for the first time in two long: 77 days, to be exact, and it was so nice to be back (home-away-from) home at the nigh-perfect venue that is
Oberon
. Truth be told, we were nervous that the one-two punch of torrential rain and
some hockey team competing for something or another
would keep the throngs away, but fate was on our side: a packed house, a lovely crowd, a terrific evening.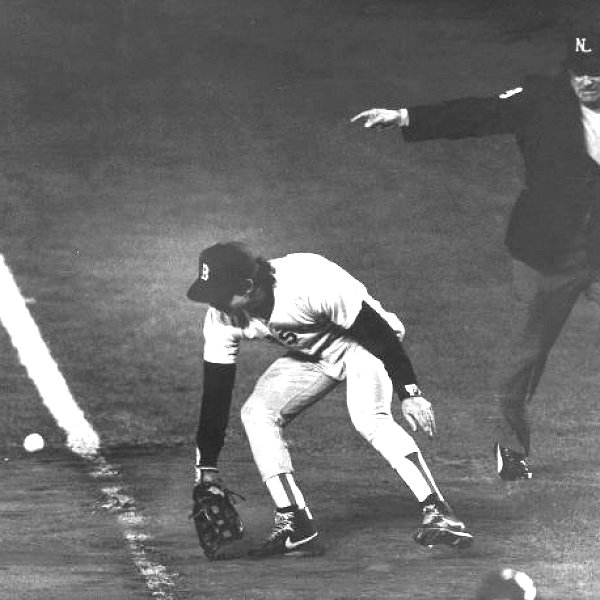 Sorry.
As you can imagine, with the BQT being a regular fixture in four cities, most of the material is not geographically specific, hence the "controversy" surrounding one entry in the "Moments in Sports: They're Grrrreat!" video puzzle. 1986: World Series Game 6, Red Sox first baseman
Bill Buckner
made a crucial error that kept the Sox from winning it all, extending it to Game 7, when the Mets scored their improbable victory. So we showed this clip, and the Boston crowd booed us for this, as is their wont, and their right, but eh, I don't care. Baseball is so unimportant to me (and by extension, the BQT) that if you want to be fiercely loyal to the overpaid jocks from your geographical region rather than the overpaid jocks from my geographical region, so be it. Personally, I was a lot happier that you all approved of my inclusion of
Wrestlemania III
and
Karate Kid I
as great moments in "sports." See, we nerds are all the same.
Governor Ventura doesn't believe it.
Some primo Smart-Ass Points last night. Because you guys are indeed nerds, the evening's champ was saying that
this great moment in sports
—England's moment of ultimate soccer glory—was "Gryffindor vs. Slytherin," but I preferred the guess that a hamburger
a cheval
—literally "on horseback"—is served with
Ikea meatballs
on top. Also, much love for the Oberon staff team, whose guess on the competitors and the year for that World Cup match was a simple "FUCK SOCCER." And still on the soccer tip, one team guessed the competitors to be Manchester United vs.
Rodney Dangerfield and the Ladybugs
.
I'd be willing to bet he did not feel a surfeit of respect.
The finale was quick 'n' dirty: Boston BQT dominators More than a Feline (f.k.a. the Quips team), [Insert Recently Dead Celebrity] Kicks Ass!!! (this time honoring sci-fi author
Iain M. Banks
), and Settlers of Chris Kattan—a semi-newcomer team largely consisting of many bar-trivia quizmasters, so you know they know their stuff, you know? But the Ass Kickers lived up to their name, taking victory on two questions: knowledge of Superman movies (but of course) and the lyrics of "
I'm Too Sexy
." And thus…
The standings:
1. Iain M. Banks Kicks Ass!: Their first victory this calendar year, it turns out.
2. More than a Feline: Did you know that the daughter of the lead singer of Boston is a BQT fan? Well, she's my Facebook friend.
3. Settlers of Chris Kattan
4. The Monstrous Humanoids/Molotov Cocktease (returning champs f.k.a. Trebekistan) (tie)
6. Apparently I Have No Friends: Ah, who needs 'em; sixth place is impressive!
7. Guilty Innocence
8. Ice Cream Anti-Social/Big Data (tie)
10. Staff Infection: Yes, the staff team.
NEXT: We're back at
Oberon
Monday, July 22. In the meantime, yes!
The Big Quiz Thing TV show
—an NYC project, since that's our home—premieres on July 14 (with a very special
sneak-preview live event on July 9
), but fear not, the Internet is magic: You'll be able to watch it wherever you are. Stay cool, Cambridge.