Ah! That's better! An excellent night in NYC, as we had much fun at The Cutting Room. Thanks for being there, everyone, and escaping the more unfortunate aspects of the real world, at least for a few hours.

As far as I could see, the only hiccup last night was that we had to rush to the end, due to pressures from the next act to take the stage (showbiz, my friends). So we made the buzzertastic finale quick and dirty: one question, about Shakespeare.


But first, good job, everyone. During the video puzzle, "Public Zoo," I was impressed how many people could identify Lagos, a daddy longlegs, a mandrill, Buenos Aires, a giant sloth, and Honolulu. (For those of you who weren't there and have no idea what I'm talking about, too bad.) Also, I'm glad we were able to clear up the issue of whether the Barefoot Contessa and Nigella Lawson are one and the same person.
Nope
And man, was it a big night for Smart-Ass Points. The competition for best of the evening came down to two very strong candidates: One of the celebrity coaches on
The Face
is Joan Rivers, and
the painter who signs his work "43"
is Jackie Robinson's younger brother. While Ms. Rivers's ghoulish visage is always good for a joke, it seems the crowd preferred the subtlety of the Jackie Robinson gag, and the
Thumbs Cookies
went to a team called, um, Kelly's Left Tit. (If only the right one had been there too.) Also props to the team that crapped out on the "Deutsch/Nicht Deutsch" audio round and just wrote "Hasselhoff" for all of their answers, and the squad that answered "Yippee-ki-ay, motherfucker," seemingly apropos of nothing, till I noticed their team name: Bruce Willis.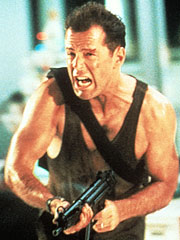 Thanks for attending, sir
Big thanks to some of the special people who made the night possible: Our terrific opening comedian,
Jessica Delfino
(director of the
New York Funny Songs Fest
, coming May 30–June 2), and the truly mind-boggling panoply of sponsors. Deep breath:
Second Stage Theatre
(presenting the reality-show musical
Nobody Loves You
), the
STFU, Parents blog
(new book out now!),
Scott's Pizza Tours
,
Pogo Events
' Amazing NY Scavenger Hunt,
Shakespeare & Co.
books, stunningly unique classes from
Brooklyn Brainery
,
Thumbs Cookies
, and our fine venue, the
Cutting Room
.
Now then, the finale: As I say, we were pressed for time, so we made it fast. Besides, we'd seen this before: the two winningest teams in BQT history, the Fantastic Fournicators and Incontinental Congress, along with another squad-to-be-reckoned-with, Gerard Depardouche. And on that one fine Shakespearean question ("Contrary to popular belief, which
Shakespeare comedy
's title character is Antonio?"), it was done.
The standings:
1. Gerard Depardouche
2. Incontinental Congress
3. The Fantastic Fournicators
4. Cash Cab for Cutie
5. 3 Non-Blondes, 4 Man Slaves
6. The Iron Ladyboys
7. Jefferson Davis Starship: The Return
8. Fat Kids Thinned Out
9. The Committe to Re-elect Kim Jong-un
10. Oh Noah Tax Refund Edition
NEXT: May 20, another Monday, with opening comic
Myq Kaplan
. And
the TV show
! Coming this summer! Stay tuned, literally…