Action! Thanks, everyone, for packing house at last night's Big Oscars Quiz Thing, preceding the awards on 92YTribeca's massive screen. (Seriously massive; never thought I'd find that stage too small.) Very heartening to see so many new faces there, along with the usual gang of quiz nerds. Who was the big winner at the Oscars last night? You were the big winner. (Along with Jennifer Lawrence and Daniel Day-Lewis, of course.)


There were some fine, fine Smart-Ass Points last night to add to the festivities. Starting this year, the
Academy Award for Best Makeup
has been renamed the Academy Award for Best Makeup and Botoxing. Among the three
1980s Best Pictures
whose titles were "BLANK
of
BLANK," there was
Son of Sam
and
Cream of Wheat.
The 20 Best Picture Winners: All at Once! included such classics as
Porky's, The Golden Child, Waterworld,
and
Police Academy 12.
And
Peter Finch couldn't personally accept
his 1977 Best Actor Oscar because he was busy networking. Also kind of amazing how much better those Best Song winners sounded when reduced to half speed (
especially this
).
Also, last night was the debut of a new BQT stage team: myself, EdP, and guest sidekick
Kate J
, one of the improv talents behind the
New York Neo-Futurists
(guest stars of the forthcoming
BQT TV show
, in fact). Dig that red-carpet outfit, BTW. Post-show Kate told me she had a blast, but was a little shy about tossing out the witticisms; once she gets her quiz legs, the laffs will be nonstop, we guarantee.
And the finale: Lots of new people at the show, but it came down to some regulars—Incontinental Lincoln; Argo, ND, and Lincoln, NE (usually known as Strippers for Stephen Hawking, playing as a mere two-man squad); and Gerard's Kids, a supergroup of Gerard Depardouche and the Fat Kids. Michael of Incontinental scored nicely by knowing
which category
this year exclusively featured nominees who had previously won Oscars, but it was Dave of GKs who took the victory with a stunning two-fer: the
most recent Best Picture winner whose title was a complete sentence
, and the
early-'90s Best Actor winner
who was onscreen for a mere 16 minutes.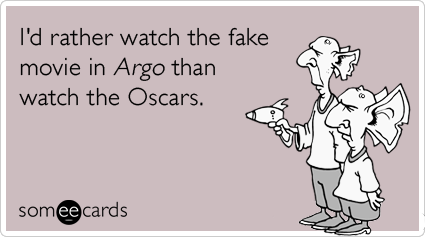 No winning-team photo because the red-carpet screening was a-calling.
The standings:
1. Gerard's Kids
2. Incontinental Lincoln
3. Argo, ND, and Lincoln, NE
4. Hotel Berlin
5. Zed's Dead
6. Oh Noah Red Carpet Edition
7. Cosmo Brown
8. The Fantastic Fournicators/Movie Doctors (tie)
10. The Gatekeepers
NEXT: We're back at the
Cutting Room
on
Tuesday, March 12
, with five more rounds of grab-bag quiz show excitement, and a fine, fine opening comedian:
Ophira Eisenberg
, host of NPR's ace quiz show,
Ask Me Another
.
Grab your tickets now
, friendo.