So I'm not going to sugarcoat it: Last night's Brooklyn BQT at Littlefield was not one for the ages. The turnout was disappointing—easily the smallest NYC crowd we've had in years, probably since those bizarre long-ago days in the Chinatown hipster bar. (Remember that night when there were just three teams and we just put a bell on each one's table? Or how about when that couple on a first date ignored us the whole night and started making out in full view of everyone? Man, that place was so awesomely wrong for us.)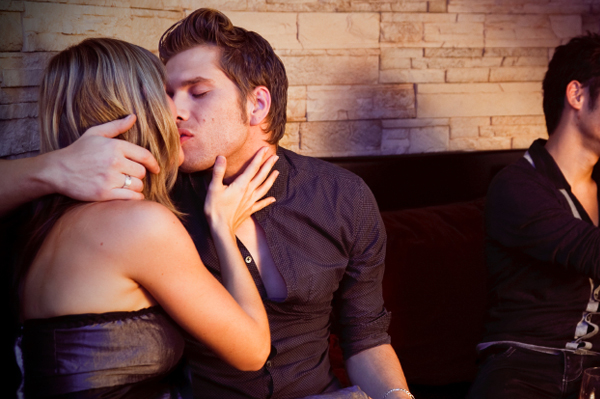 We gave them a Smart-Ass Point.
Oh, I was more than satisfied with the content, and I gather those present felt likewise. "Movies and TV: Untranslated" is a winner: Funny, and a nice balance of pleasantly easy and devilishly challenging (and hey—two teams knew the Tick was speaking Portuguese!). And "Snappy Answers to Stupid Questions" inaugurated a whole new exciting concept in BQT audio rounds (text clues! woo-hoo!). The prizes, too, were absolutely world class:
The UCB Theatre, Brooklyn Museum, Brooklyn Brewery, Second Stage Theatre's Water by the Spoonful, and Thumbs Cookies
, plus big, big cash. But the light crowd, and the subsequent low energy (not a notable Smart-Ass Point night), isn't what I demand for the BQT, which I always consider more of a high-octane show than a sedate sit-around. Though if you were there, you're probably an old hand, and you know that.
I love
Littlefield
as a venue—it's a straightforward but cool space, and the staff simply could not be more supportive—but I question our Brooklyn experiment. This was the nadir, sure, but the crowds have never been what I'd hoped for, and it's been extremely hard to make money at this venue. The goal was always to cultivate a new audience, a whole new group of regulars to make up for the excessively Manhattan-centric who can't make the trip; there are legions of fun-loving Brooklynsiders who keep this and other venues packed on a regular basis. But alas. I would absolutely love your thoughts on the subject; please share via the medium of
Mr. Zuckerberg's Fabulous Facebook Machine
.
We have one more date at Littelfield—
December 11
, details TBD, but
cheaper tickets are available now
—and then
we're back in Manhattan in January
. But I do hope that at some future time, we find a place for Brooklyn within the BQT empire—it is so essentially NYC (I
hate
when people refer to Manhattan as "the city" in relation to the outer boroughs), and no matter how many other burgs we add to our crown, we will always be NYC, and NYC will always be us. (Speaking of which: Prepare yourself for what literally might be the biggest BQT news ever, coming in the next few months. I am neither kidding nor exaggerating.)
But hey, I nit-pick. The fact is, it was still the best quiz show happening anywhere in NYC last night, and as I often say, a sign of success is when it's bad, it's still pretty good. And your champions, Strippers for Stephen Hawking, were beyond overjoyed to post their first victory in many an age. And really, isn't it all about creating joy?
So a hearty thank-you to all our sponsors, the Littlefield team, my brilliant BQT team, and of course, everyone who made it out to the show—including the two entirely new teams. The standings:
1. Strippers for Stephen Hawking
2. Gerard Depardouche
3. Diddle Me Elmo: First time in the Three-Way Finale!
4. Incontinental Congress
5. The Fantastic Fournicators
6. Ex Post Factoid
7. The Schadenfreudians: New team!
8. Mein Kampf es su Kampf
9. Your Grandma Kicks Butt: Another new team!
That's everyone. And that's enough.
Next:
Yes,
December 11
, we bid adieu for now to Littlefield. Come out and share in the joy—you're not going to get better trivia anywhere, nor better prizes (Brooklyn Museum, Brooklyn Brewery and Thumbs are all on board, as is Benjamin Franklin x 2 for the winners). Then January 8
it's Manhattan
, then January 13 it's our
Family Quiz
, then…well, you're going to be glad you were already on board, trust me.