First off, a clarification/reiteration: As I stated in my post about strategy for our Tenth Anniversary Quiz Show Marathon Spectacular, we're not asking anyone to stick out the full ten hours (though you're welcome to, nerd boy). Furthermore, we'll be giving out prizes all day. So show up anytime, and maybe win something. Including, perhaps…


THEATER!
We've got a ridiculous number of show tix to give out throughout the Marathon. Some of the options…
Silence! The Musical:
Returning to the BQT prize haul after
generously taking part earlier this year
, Silence! defies the attention-grabbing-parody-of-
a-popular-movie
theater stereotype by actually being quality theater. (
The pointy-heads prove it
.) Learn more at
silencethemusicalnyc.com
.
My Sinatra:
Another repeat sponsor
. Like seeing the Chairman of the Board in person, without the need to defy the laws of space and time. Come fly away at
mysinatra.com.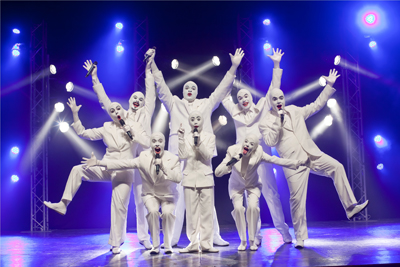 Voca People
:
One more encore sponsor.
Don't tell me you don't like music. Don't tell me you don't like weird stuff. Tune in at
vocapeoplenyc.com
.
And let us welcome…
Old Jews Telling Jokes:
The Web series sensation
—and how could it not be?—has just opened as a stage show, a hell of a lot more entertaining than Passover Seder with Uncle Bob (though I've learned to appreciate that). A company of five non-Goyim shares classic humor, original comic songs, tributes to the delightfully crusty MOTs of the past, and much more, now playing at the Westside Theatre. Much more at
oldjewstellingjokesonstage.com
. And now for something completely different…
Sistas:
The tag line is "
Sistas: The Musical: The story of African-American women through Top 40 music."
There aren't many more American things than that, really—everything from "I Will Survive" to "I Am Not My Hair."Now playing at St. Luke's Theatre; explore at
sistasthemusical.com
.
And we have a sole Broadway production in the lineup…but I'm going to keep hush about that for the moment. Let me just say it's big, and whoever finds themselves with these tickets will indeed find themselves with great responsibility. Stay tuned…
and buy your Marathon tickets now
!
Marathon prize sponsors:
Birch Coffee
,
Lionel Trains
,
The Artifice Group's Strange Things
,
The Bubble Lounge
, more in this space soon…