Sing it with me: "Spider-Man, Spider-Man, does whatever a spider can…"

Okay, fine, that's not exactly relevant here, but dude: Spider-Man!!!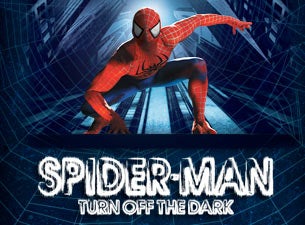 This is a big one: As part of the massive prize haul at this Sunday's
Tenth Anniversary Quiz Marathon
, we've got some tickets to the Broadway spectacular that no one believed could survive,
Spider-Man: Turn Off the Dark.
The tales were amazing (heh), and brutal: Early previews of the show said it was an epic disaster, with an incomprehensible plot and a damning number of high-flying cast injuries. But the producers stepped back, retooled it, and now the damn thing will run on the Great White Way until only cockroaches are left walking the earth.
I was fortunate enough to see the show recently. It's not Tennessee Williams, but it's a thoroughly entertaining Broadway spectacular, with fantastic special effects, an energetic and exciting cast, fun music by
these guys
(they're gonna go places, I tell ya!), and the genuine thrill of seeing Spider-Man himself swinging high above your head. Tourists are snapping up the tickets like crazy, and like everything on Broadway, they don't come cheap, but we've got a couple for lucky Marathon-goers. In fact, I'm calling it now: This will be part of the second-place prize. (First being $1,000, of course.) Nice, huh?
Also, let me take a moment to shout out to Allison Prouty and her team at
Second Bolt
, the production company that's been working with us on making the Marathon a reality. She procured this and all the other prizes (and is the one who took me to see
SM: TOTD
), and has been an invaluable addition to the BQT machine.
Learn more about
Spider-Man: Turn Off the Dark
here;
buy your Marathon tickets here
. And now, just because you know you want it…