Yes, yes, you had such a good time at last night's Big Quiz Thing, you're asking: How can I get more?!? I mean, apart from Twitter, of course? Introducing the Bonus Material: extra details/facts/videos apropos to some of the material from last night. The Big Quiz Thing: wasting time on the Internet so that you don't have to.

Last night's audio round, "Rock, Paper, Scissors," was a favorite of mine, even though I found it quite a challenge thinking up "scissor" songs. Scissor Sisters, of course (I was surprised at first how many people guessed the Killers, though in hindsight, yeah, I hear the clamorous-production similarities), then "Devil's Haircut" and "The Cutter," but you had some interesting wrong answers. Notably, "The First Cut Is the Deepest," which is one of those tunes that everyone seems to know, but via different versions: It's been a hit for Rod Stewart (ugh), Sheryl Crow (double ugh), and someone named P.P. Arnold (better, but c'mon, get a stage name). But it was written, and also recorded, by a fellow called Yusuf Islam, f.k.a. Steven Georgiou, f.k.a. Cat Stevens.


I don't particularly like any of these versions, which I always found frustrating, since I nonetheless have always loved the lyrics and have detected a corresponding poignance in the melody. But several years ago, I found it: the fabled excellent version of "The First Cut Is the Deepest," one of the many, many delicious obscurities found on the epic
Nuggets
compilations. It's by British psychedelic group
the Koobas
(me neither); just try to smoke a bowl, listen to this, and
not
cry:
Speaking of music, the four-part question in Round 1, "How Are They Related?," was something I'd be working on for a while before I stumbled upon the perfect d. question: (former) White Stripe Jack White and (former) Meg White—how are (or were) they related? Early on, the duo claimed they were brother and sister, till the journalistic millions
dug up the truth
: They were actually once married (and thus were not, in fact, siblings…although I guess it's still possible, gross). And here's the proof: the actual marriage certificate. Dear God, what kind of Information Age we live in: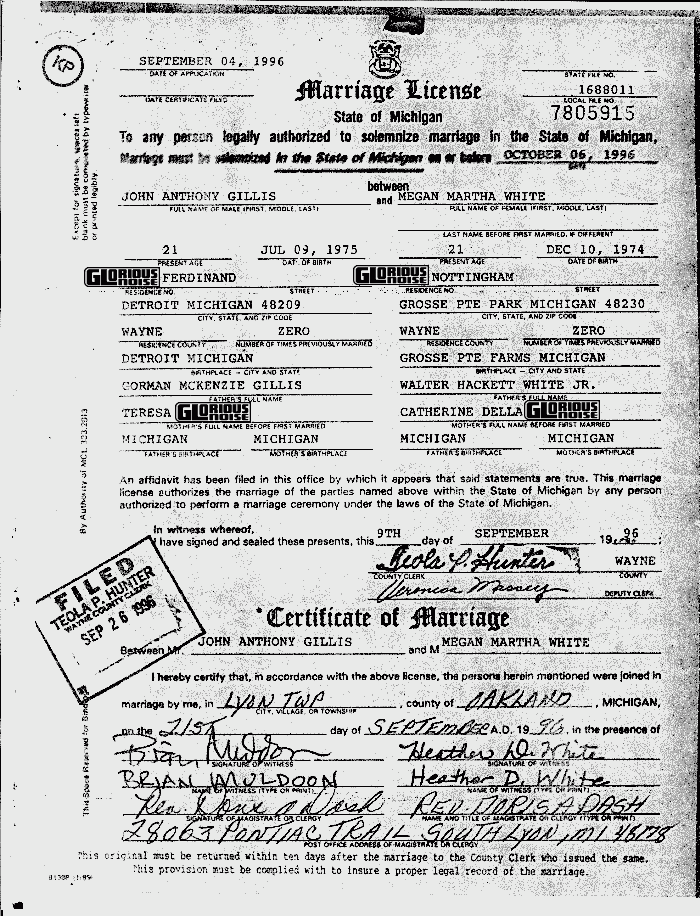 Interesting that
her
name was originally "White." Progressive! Maybe I need to give this band yet another chance.
Here's something I can't get enough of, in a so-bad-it's…-well-it's-still-bad-but-fascinating kind of way: During the Lightning Round, I asked which new McDonald's burger of the late '80s was sold with double the wasteful packaging of the other burgers. Most of you knew: the McDLT. And how did you know? Somewhere in your subconscious, you probably recalled this commercial:
Indeed, that's George Costanza, song-and-dance man extraordinaire. Man, how awesome would it have been if they'd incorporated this into a
Seinfeld
plot.
Another amazing '80s artifact: the main event from the first Super Bowl of pro wrestling, WrestleMania I, in 1985. Stu of Cash Cab for Cutie won the Three-Way Finale last night by being able to name Hulk Hogan's tag team partner as this tremendous event. Trust me, so can you:
Part two is
here
. Not a great match, but a great moment, with two of the all-time best (Hogan and the indomitable "Rowdy" Roddy Piper), another classic wrestler (Mr. Wonderful) and Mr. T—the greatest American of the 20th century.
Also from the Three-Way Finale: In the Bravo TV edit of
Pulp Fiction
, what character is entirely removed from the movie? Bring him out!
This, of course, is the original version, and man, this scene freaked me out when I first saw it in the theaters way back when. What the fuck is going on here, really. Factoid: The Gimp was played by
Stephen Hibbert
, an alum of
the Groundlings
and, at the time, the husband of Tarantino pal/fellow
PF
bit player/
androgynous

SNL

meme
Julia Sweeney. So he's got that on his résumé.
Some of you were puzzled by this eminently figureoutable one: What Yes album title was 85 less than Beverly Hills? Well, what's 85 less than 90210?
90125
! Sold a zillion copies back in the early '80s, partially thanks to this uh-may-zing video:
Now those are some rock stars who know how to compensate for the fact that they're hideously ugly. Don't forsake your free will at all, friends.